Welcome to the Besiege Wiki
The player-maintained record of Besiege to which anyone can contribute!
We are currently maintaining 227 articles and 835 images & videos.
Announcement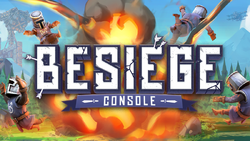 About Besiege
Besiege, developed by Spiderling Studios, is a physics based building game in which you construct medieval siege engines to solve puzzles, annihilate armies, and lay waste to immense fortresses and peaceful hamlets.

At its full potential, it is also a mechanical and engineering sandbox of the highest caliber, where almost anything you can imagine is possible! Jet planes, modern tanks, giant spaceships, swashplate helicopters, piston-engined cars - all of these and more can be realised, to an incredible level of visual and physical fidelity.
And with the Level Editor, you can build - and share - environments and challenges to match. Sprawling cityscapes and grand battlefields await those who dare to challenge them.
Featured


A keybind that emulates a keypress. Note the radio tower icon.


An emulation message box. ; is used to split multiple names.

Automation is a category of machine Blocks. They have a special property - they can emulate key presses. As in, they press keys for you based on certain conditions, like speed, altitude, or rotation.
Automation blocks run at 50hz (once per two physics steps, or every 0.02s).
Each block takes a step to process a signal; triggering a chain of Logic Gates will not all of them at once, but instead ripple through over a short period of time. (read more...)
How to Help
Want to help us out? Anyone and everyone can edit and contribute to this wiki!
Before diving in, be sure to check the Style Guide (for article standards) and Wiki Rules (for community standards).
If you're ready to edit, we have a long Wiki To Do List which needs completing. Whether you're new or old, feel free to dive in!
Something wrong? If you find a problem on one of our pages, leave a message on our Discord server or in the talk section, and we'll get to it right away!